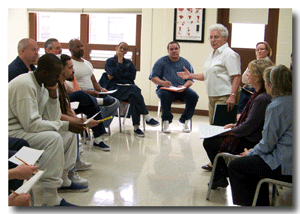 Our Sisters participate in ministries that assist, counsel, educate, and provide work for those who have been incarcerated.
In all our ministries we advocate for justice, equal dignity, and rights for all, especially for the poor and disadvantaged. We have been a strong voice for reconciliation, non-violence, justice and Welfare Reform, especially for needy women and children.
Sr. Lorry Villemaire talks about her prison ministry in this short video about the labyrinth program at the Hampshire County Jail.