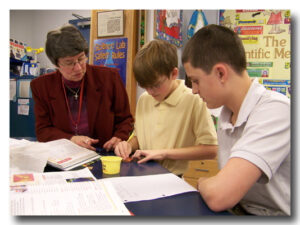 In 1880 we began teaching in a one-room schoolhouse in Chicopee Falls. Now in the 21st century, we serve as superintendents of schools, catechists and directors of religious education, college professors, high school and elementary school teachers, directors and teachers of alternative education and tutoring programs.
We like to think that, wherever we are and whatever we are doing, we are teaching someone something of the great love of God for us all.
Sr. Patty Murphy talks about her ministry at an after school program in this short video.