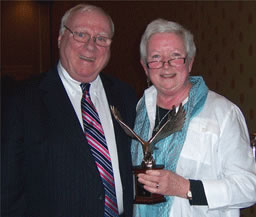 Sister of St. Joseph Ann Keefe has received the Eagle Award from the Institute for Labor Studies and Research in Providence, Rhode Island.
The organization, dedicated to the education and training of Rhode Island workers, recognized Sr. Ann for her support of local labor groups and the rights of immigrants.
Sr. Ann, who serves at St. Michael Parish in Providence, was also honored for empowering the rights of workers in the many programs she has founded. These include Providence CityArts for Youth, the Institute for the Study and Practice of Nonviolence and Taming Asthma. She also chairs the Human Relations Commission for the City of Providence.
Sr. Ann was one of five people to receive the Eagle Award during the ceremonies held May 10th. Sr. Ann says it was an amazing honor to receive the award. She noted that eagles are vigilant and loyal, attributes she tries to bring to her continued efforts to provide justice for workers.